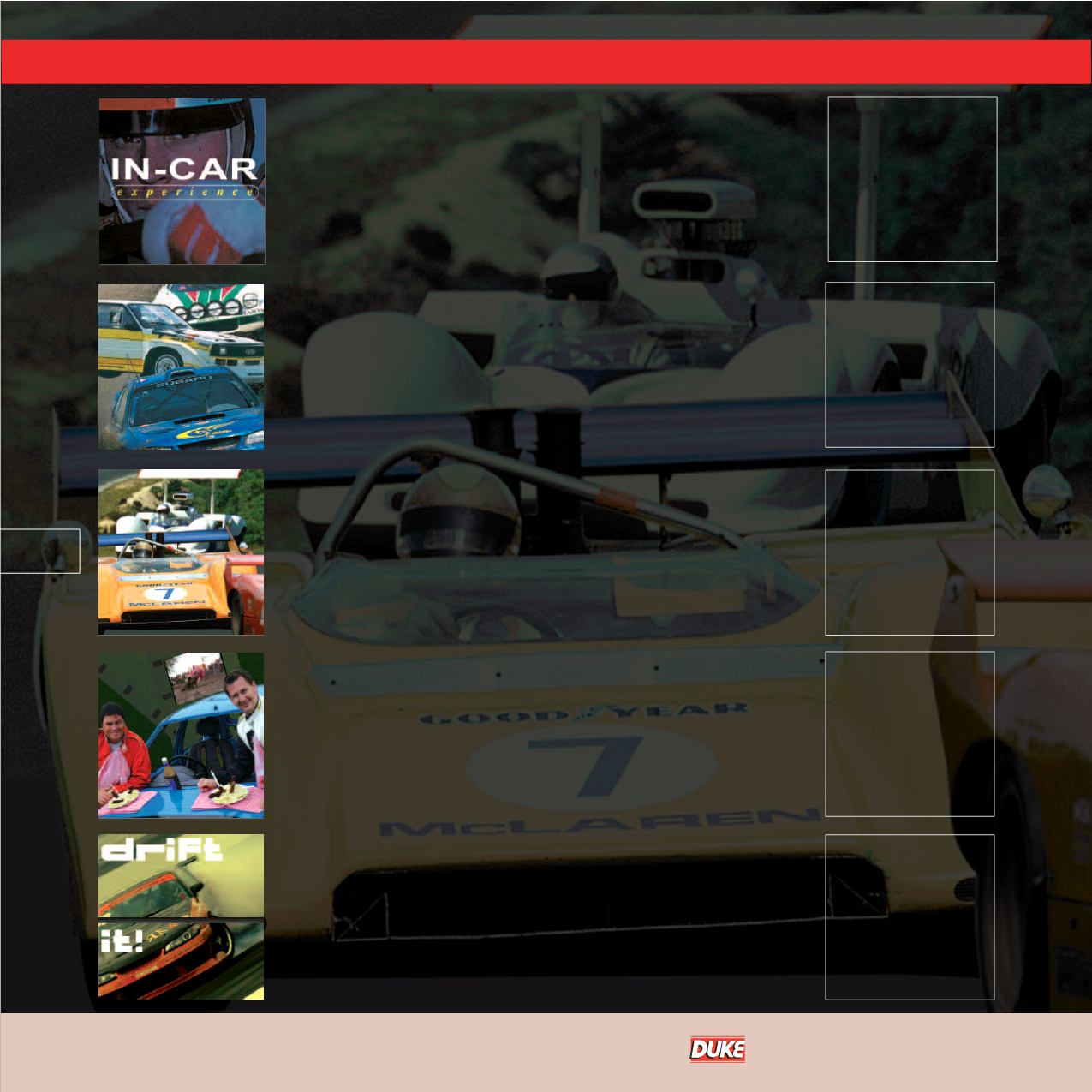 64
One of the most exciting advances in motor racing coverage was the advent of the in-
At last fans could share the experience of being inside high speed machines being pushed to
the limit. The technology has improved to ensure your viewers receive the very best
experience. Travel inside a World Rally car, an iconic Porsche 956 and thoroughbred BTCC
machine - without needing a helmet!
70mins
•Sportscar
•Touring Cars
•Supercars
This is an action-packed look at the fire-breathing beasts which transformed world
Filled with development and action footage of iconic machines, authoritative
commentary, detailed close-ups, classic archive film and contributions from legends
like Colin McRae and Stig Blomqvist, the programme offers your viewers a comprehensive
and action-packed look at some very special cars.
90mins
•Audi Quattro
•Lancia Delta
•Subaru Impreza
This is the definitive documentary about the 1000 horsepower, 200mph-plus monsters
Archive footage of mighty machines from Porsche, McLaren and Lola on legendary
circuits is skilfully combined with modern action film and interviews with experts like
Pete Lyons and Can-Am champions to create the comprehensive story, with a roaring
109mins
•John Surtees
•Jackie Oliver
•Vic Elford
•HurleyHaywood
Rally star Robbie Head and popular presenter Mike Brewer deliver an hilarious
compilation of motorsport mishaps selected from more than a decade's worth of racing
footage. There's more than 150 crazy collisions and outrageous cock-ups featuring two,
four, six and even eight-wheel racing, plus Robbie treats us to some of his own
entertaining outtakes. Only the very best, and most entertaining footage, made the cut
and features in Bangers and Smash!
60mins
•Sportscars
•Trucks
•Rallying
•Motorcross
•Superbikes
Born out of amateur mountain road racing in rural Japan, drifting has become a
worldwide sensation that has taken motorsport by storm. Combining techniques from
autocross, rally and road racing, the art of drifting makes for fast, furious and totally
addictive entertainment. Drift It! takes viewers under the skin of the drift scene, visiting
the most exciting events, talking to the people at the heart of the sport, learning
techniques from the masters and watching the drift kings in action. The programme is
loaded with the hottest drivers and plenty of tyre-burning drift action.
60mins
•Techniques
•Unique pedal-
cams
•Demos from the
drift kings