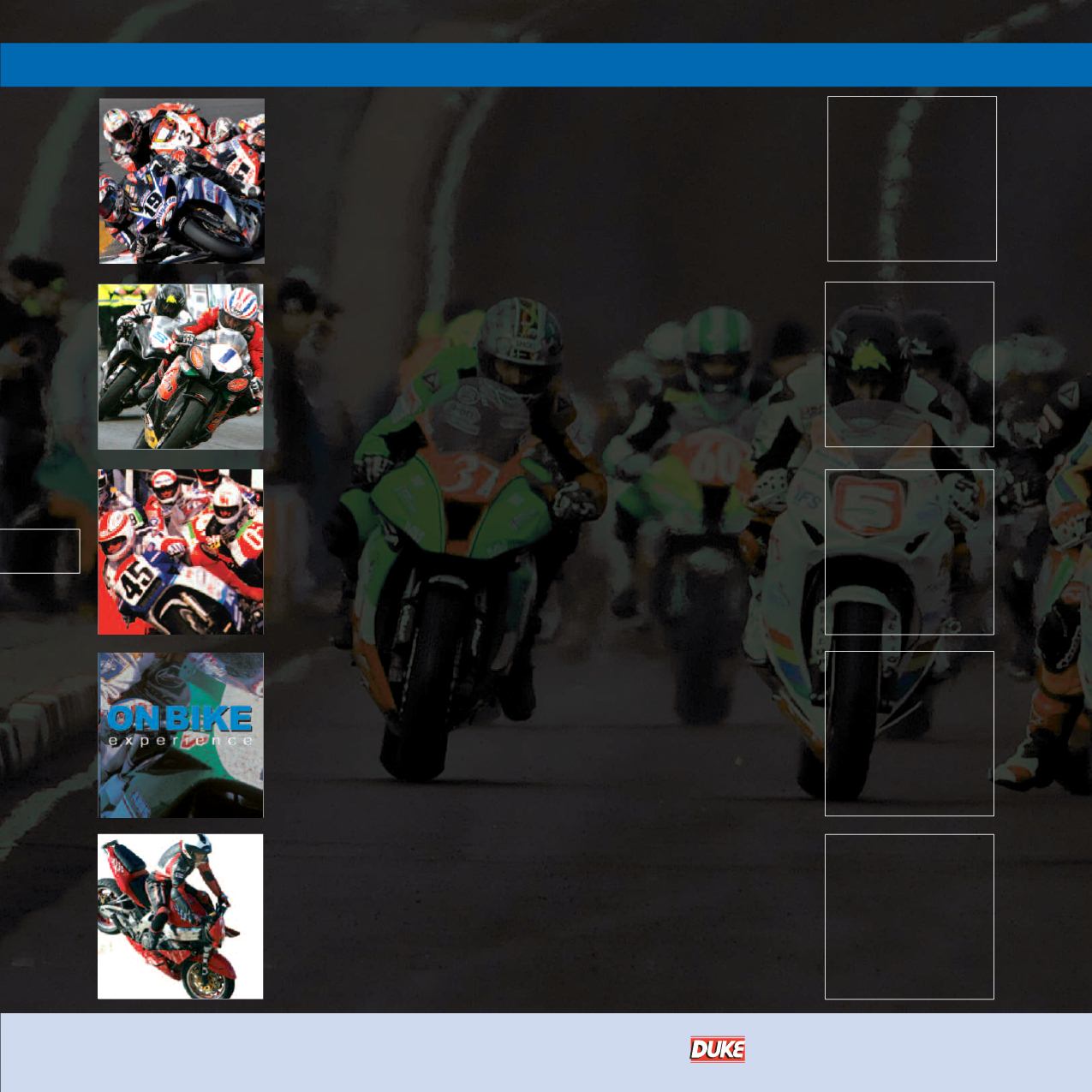 44
Superbike world championship
The best racing action from one of the most fiercely contested championships; this is
the official, drama-filled review of the Superbike World Championship.
The best action footage, informed commentary, rider interviews and more ensure
comprehensive coverage of every round from through the season. Duke can offer
reviews of every season since 2002.
180mins
•Spain
•Germany
•Italy
•France
•UK
•Netherlands
•USA
•Australia
Unforgettable battles, high-speed racing, down-to-the-flag contests - this is the
unmistakable North West 200, one of road racing's fastest events.
Duke can provide comprehensive reviews of every year from 2002, letting your viewers
witness legends new and old racing elbow-to-elbow in the very best action footage.
80mins
•Robert Dunlop
•Steve Plater
•Ryan Farquhar
•Alastair Seeley
Two decades ago Britain played host to some of the most amazing motorcycle races of all
time. The finest American riders crossed the Atlantic to take on the best the British
Commonwealth and Europe had to offer, and the racing was simply scintillating. They came
from different championships, and would see their skills tested on a variety of machines and
the most challenging circuits. This series features star-studded, action-packed highlights from
six years of this spectacular contest, with race drama, on-bike footage, interviews and more
bringing your viewers the definitive story of epic challenges for national pride.
54mins
•Barry Sheene
•Wayne Gardner
•Eddie Lawson
•Carl Fogarty
•Kenny Roberts
Thanks to advances in on-bike camera technology, your viewers can share the unique
experience of racing on the world's fastest tracks alongside the biggest names in
motorcycle sport - without having to pull on their leathers.
See legendary circuits like the Nurburgring and TT course the way the racers do!
80mins
•Road Racing
•The Isle of Man
TT
•Superbikes
Sparks, smoking tyres, gasps of awe and delight - it can only be one thing… the World
Stunt Riding Championship final! Your viewers are treated to highlights of the greatest
showdowns as the best stunt riders ever battle it out to be crowned World Stunt Riding
Champion. They will marvel at gravity-defying skills as the riders blend balance, control
and entertainment. All the highs and lows are here - along with plenty of controversy - as
we witness the laws of physics being suspended in truly spectacular displays.
60mins
•Sonnie Ferguson
•Christian Pfeiffer
•Humberto Ribeiro
•Antonio 'AC' Farias